MASTERS Rental 7 min to Golf Course on PRIVATE 3 Acre HOME w FULL RIVER VIEWS, POOL, BOAT DOCK - BUT PARK for FREE at Masters House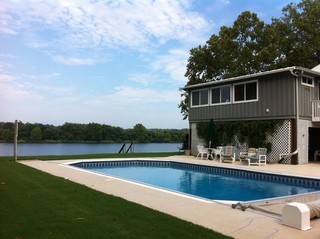 Location:
PRIVATE RIVER ESTATE ON 3 ACRES
BE CLOSE TO MASTERS WHILE RESTING AT THIS RIVER HOUSE!!!
This Private 3 acre River House offers
RESERVED FREE PARKING next to GATE 10
!!!!!!!
A
7 minute drive to the Masters
from the downtown area of Augusta.
NO TRAFFIC from RIVER HOUSE DIRECTION!!!!
SAFE, QUIET, PRIVATE DECK, BEAUTIFUL RIVER AND NATURE VIEWS, SALT WATER POOL, KAYAK the RIVER!!!!!!
It is very close to all the Masters Festivities, Restaurants, and Clubs!!!!!!!
It is Newly built offering
NEW KING SIZE BED, WIFI, HDTV, Washer/dryer/ Grill space, pool, canoe, and wide open RIVER views!!!!!!!
2 Minutes away from River North Golf Club!!!!!!
BRING YOUR CLUBS FOR PRACTICING YOUR SHOT OVER THE RIVER!

Availability:
CALL FOR PRICING of RENTAL PRICE
Other Information:
Hurry and Reserve your dates.....Master Tournament tickets available through staying at my house!!!!
Payment Methods:
Visa, MasterCard, Paypal, Cash, Check, Money Order
Black Out Dates:
MASTERS WEEK APRIL 3-9th
63 ALBECLAUSS DRIVE
2712 Margate circle/5 min to Gate 10
7 MIN DRIVE TO GATE 10, AUGUSTA, GA 30901
View Map
All information in this site is deemed reliable but is not guaranteed and is subject to change
ID#: 65111859
Location: Augusta, GA , 30901
Address: 63 ALBECLAUSS DRIVE, 7 MIN DRIVE TO GATE 10, AUGUSTA, GA, 30901, US

Bedrooms: 2
Bathrooms: 1
Square Feet: 1,200